Golden Wings Academy Asia is a unique Flight Academy founded by experienced airline pilots – captains with more than 10 years of flight experience flying in Asia. Its Goal is to create the next generation of captains who will command the airliners which operate in the Asia region.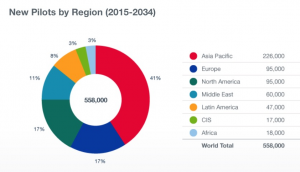 As China's aviation sector continues to grow at an alarming rate, so the demand for qualified pilots also significantly increases. Boeing's predictions are that the Asia Pacific region alone is going to require 226,000 new pilots over the next 20 years (see graphic, right).
The Academy's goal is to produce safe and competent pilots to meet this demand by developing innovative training solutions.
The primary focus is on safety and training quality using experienced instructors and modern aircraft and simulators. The Academy is proud to form a partnership with the 2FLY Group in order to create the perfect training programmes to meet its goal.